COVID-19 Protocols
Qs – MOHAWK 4 ICE CENTRE VACCINE VERIFICATION
This material is subject to change.  Please check back frequently for the most up to date information
 Updated: January 28, 2021 – 4:46PM

What can I expect for vaccine verification when I visit the Mohawk 4 Ice Centre?
Each person who enters the arena must show the enhanced proof of vaccination with QR code and identification at the time of entry, which will be verified by staff using the Verify Ontario App.
When arriving at the main entrance of the arena, signage will indicate that vaccine verification is required when entering the facility. Please plan and adjust arrival times accordingly as you may experience wait times before entering. Thank you in advance for your patience and understanding.
Will my vaccination records or personal health information be kept or recorded?
No. Any vaccination records or documentation will only be visually verified – no information will retained or copied.
If I am a regular user or just leaving the facility briefly and coming right back in, do I have to show my vaccine verification each time I enter the facility?
Yes. The arena staff is not permitted to retain vaccine records or status, so individuals will be required to show their proof of vaccination each time they enter the facility.
What constitutes proof of vaccination or identification?
Proof of vaccination, identification and exemption requirements are determined by the Ministry of Health. For more information, visit www.hamilton.ca/ProofOfVaccination.
How do I download my enhanced proof of vaccination certificate?
Using your green Ontario photo health card, you can download or print your vaccination receipt from the provincial booking portal, or call the Provincial Vaccine Contact Centre at 1-833-943-3900 to request a copy of your vaccination receipt.
 I am unvaccinated – can I still enter the arena?
The following vaccine exemptions apply to recreation facilities:
Children under 12 years of age
Participants of organized sports under 12 years of age (e.g. sport leagues and registered sport programs)
Individuals with a medical exemption and supporting documentation from a physician/nurse
Retail transactions
 Are youth required to show identification? What is acceptable identification?
Participants are not required to show identification if:
Accessing an organized sport program for youth under 12 years of age.
Participants 12-17 years of age accessing programs are required to show enhanced proof of vaccination including QR code and identification in accordance with the Ministry of Health. For more information on what identification is acceptable please visit www.hamilton.ca/ProofOfVaccination.
What programs are included in the 12-17 year-old youth sport exemption?
The 12-17 year-old Organized Sport exemption includes:
School athletic programs (gym class, Hockey Canada Skills Academy program, etc)
The Organized Sport exemption does not include:
Open Shinny
Skate Card
Fitness programs
High School Hockey practices or games
What if someone is a volunteer, coach, official or Board member?
Vaccine verification is required for ALL volunteers, coaches, officials and board members entering the facility.
Will washrooms be made available to the public?
No.  At this time washrooms are only available to customers of the Mohawk 4 Ice Centre
What if I refuse to show vaccine verification?
No member of the public will be permitted to enter the facility without proof of vaccination or exemption.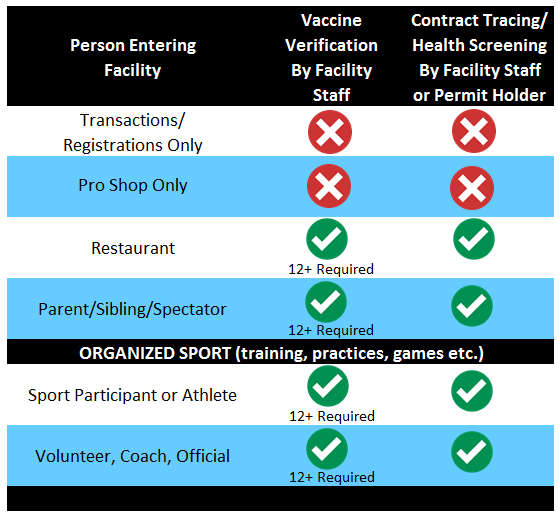 The City of Hamilton has a Zero Tolerance policy. Anyone engaging in verbal assaults, threats or aggression, vandalism, or incitement of violence will be ejected from the property with a mandatory suspension from all municipal facilities. We ask that everyone attending a City recreation centre/arena contributes to a positive and supportive environment for children, their families, and community sport